EP86: Sarcos Does the Heavy Lifting
Episode 86 – Sarcos Does the Heavy Lifting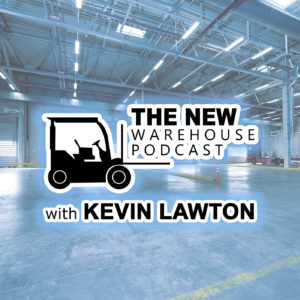 On this episode, I was joined by Kristi Martindale who is the Chief Customer Officer and EVP of Product Strategy at Sarcos. Sarcos has been helping the defense department lift heavy objects for some time but has recently started to move into the commercial world. They provide a fully body exoskeleton for humans to use for heavy lifting.
Key Takeaways
Exoskeletons were surprisingly prevalent at MODEX this year and when I first got into the exhibit space, where The New Warehouse booth would be, right in the middle was Sarcos's booth with the Guardian XO front and center being guarded by security. Of course, this caught my attention and in my head I was saying "what is that thing?!" I found out once the show started that it was a serious full body exoskeleton solution that is battery powered. This has a lot of great applications and potential applications that I can see it being used for in the future.
The Guardian XO addresses the issue of workers being strained from heavy and repetitive lifting. It also helps to reduce back injury and other injury caused by these long term strains. When wearing the Guardian XO, the exoskeleton does all of the lifting for you. As Kristi discusses it makes lifting something that is 50 pounds feel like you are simply lifting up a drink.
Not only does the Guardian XO help the user lift with little effort it also allows for them to lift hands-free. The exoskeleton has different attachments that can be used to lift whatever object may need lifting while allowing your hands to be free to perform other tasks. For example, these can be used to lift heavy tires and hold them in place while you bolt them on to a vehicle with your free hands. Sarcos has been doing a trial with Delta Airlines for this application as well as for lifting heavy bags when loading and unloading planes.
Another great benefit that Kristi and I discuss is that the Guardian XO is providing a solution that can help to equalize the workforce. As you will hear Kristi mention, she is only 5′ 1″ and is able to put the exoskeleton on and lift heavy objects. With this being implemented it means that individuals who could not lift such heavy objects previously now can. This gives an opportunity to employers to be more flexible with their workforce and gives them a chance to open up the hiring pool allowing for more opportunities for the workforce as well. With the Guardian XO the job requirement of lifting 40-50 pounds is no longer needed.
Listen to the episode below and check out the video of the Guardian XO in action.