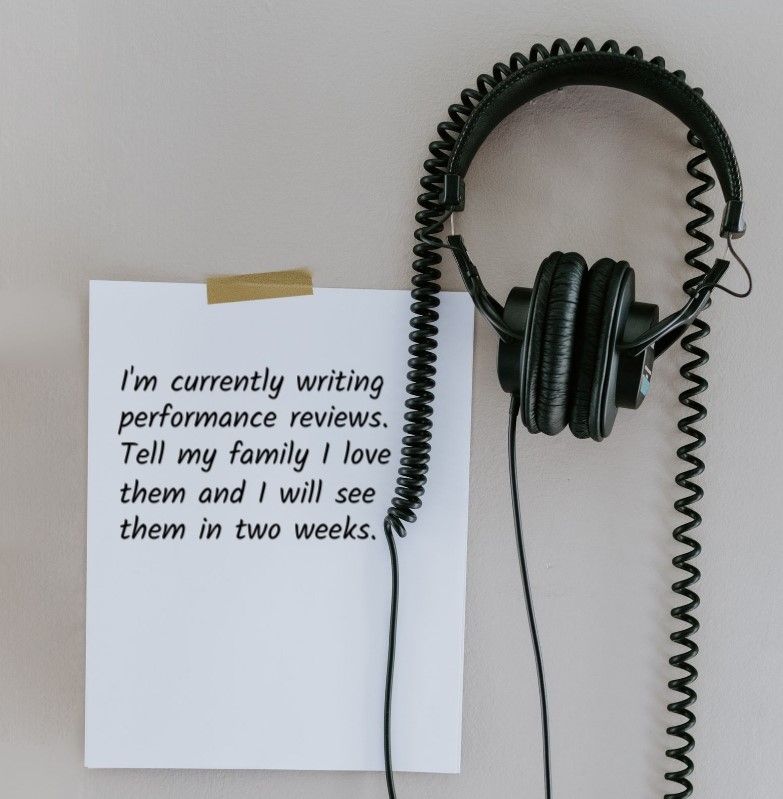 Streamline Your Performance Reviews with Ambition In Motion (AIM)
Streamline Your Performance Reviews with Ambition In Motion (AIM)
For years, I was overwhelmed by the annual review process. Despite my best efforts to improve the performance appraisal process, it never seemed enough to capture the employee's job performance. Every year, I promised to do better and tried to create my own tracking mechanisms, and I felt I came up short each year.
When I heard about Ambition In Motion (AIM) from a colleague, I was intrigued by the idea of a system that replaces the annual review cycle. Garrett Mintz, founder of Ambition In Motion, was kind enough to answer some questions about AIM and how it can help in environments like warehouses. He explains AIM Insights eliminates much of the manual effort in conducting performance reviews, saving organizations time and money while freeing up resources to focus on other essential tasks.
The mission of AIM
"Ambition In Motion's vision is a world where the vast majority of people are excited to go to work, when they are there, their expectations meet reality, and when they come home, they feel fulfilled." Garret Mintz
Since leaders have the most influence on employee morale, they need the tools, training, data, and mentorship guidance necessary to succeed. 
How does AIM Insights work? 
AIM Insights helps organizations track and measure progress on employee goals by offering ongoing feedback and coaching opportunities to ensure that employees stay motivated and on the path toward success. The platform starts with a goal-setting process where team members are encouraged to develop goals that align with the company's overall mission. Through AIM Insights, leaders create an individualized plan for each employee, outlining what they need to do to achieve their goals.
"AIM Insights is our software tool; it helps leaders get a pulse on how their direct reports are feeling at work and helps bring an update on what their direct reports think they need to improve. Through AIM Insights, the leader receives executive coaching to understand what the data means and benchmarks how they compare to other leaders of similar teams regarding the sentiment and productivity of their direct reports." Garrett Mintz
AIM Insights helps guide the one-on-one conversation between leaders and their direct reports by providing an easy-to-use coaching feature. The tool also provides resources for leaders to have meaningful conversations with their direct reports about their performance, goals, opportunities for growth and development, and any challenges they face.
By giving leaders access to these resources, AIM ensures that each one-on-one conversation focuses on building relationships and creating an environment of trust and support. In short, the AIM Insights tool makes it easy for leaders to have effective one-on-one conversations with their direct reports, even if they have 30 or more!
Overcoming recency bias with timely feedback
Garrett feels timely coaching and feedback are essential for leaders to stay up-to-date and informed on the ever-evolving field of leadership. Leaders need to recognize that their direct reports may not always be aware of their plans, so clearly communicating expectations in one-on-one meetings is essential. Leaders should also be mindful that their presence and intentionality during these meetings will significantly affect how employees feel about the work they are doing with them.
Why is timely feedback so important? 
Timely feedback will prevent any long-term issues or costly mistakes down the line, thus enabling organizations to maximize potential outcomes and minimize resources wasted due to a lack of proper guidance. 

Timely coaching helps create a sense of trust among team members and enhances performance across the board as it reflects an overall commitment towards growth and development.

Timely coaching helps teams reach higher productivity levels, leading to tremendous overall success, which benefits individuals and organizations. 

Coaching is a significant part of an employee's journey. If employees feel dejected, underappreciated, or frustrated, they may not express their feelings but rather start looking for another job without their employer being aware of why. As such, timely coaching is critical – not only to prevent employees from leaving but also to develop and grow their skills within the workplace. 

Timely and effective coaching can help promote a positive work environment by encouraging open communication between both parties. 

Timely coaching also allows employers to offer guidance in areas where improvement could be made, helping employees reach their goals faster. 
Timely coaching will enable employees to feel supported and heard and give them opportunities to provide feedback on how they see things or what they need from their managers. Moreover, timely coaching can encourage growth through goal-setting activities, which help foster engagement and collaboration among coworkers while creating healthy competition in the workplace. 
"AIM Insights works well in showing all of the things a direct report has been doing over time. It creates a hub for all of the feedback as a leader; you may want to give your direct report in one place so you can quickly access it and give your team members the feedback they need to thrive and feel like as if they're growing at work because one of the big things employees need is feedback. So, as a leader, I can quickly and efficiently perform monthly reviews with each direct report without spending hours of prep time like a typical performance review." Garrett Mintz
Rewarding employees
Aim Insights helps companies to make informed decisions about rewarding top performers and promptly pinpointing improvement areas with its reporting metrics that measure employee performance in real-time. The work orientation metric helps leaders to understand how to motivate employees and tailor motivational tactics based on what drives direct reports. 
Aim Insights allows managers to track progress regularly by providing goals for their direct reports, enabling them to obtain feedback from their manager on whether the goal was high, medium, or low impact. This makes it easier for managers to promptly identify areas of improvement or success, allowing them to reward those who are meeting expectations or have made a positive contribution.
Additionally, employees can quickly assess their performance by viewing their goals and results within the platform. This level of visibility helps employees take responsibility for achieving objectives and strive for success, knowing that hard work is being noticed and rewarded. 
Advantages of AIM
By providing regular, monthly performance reviews, employees get timely feedback and guidance from their leaders, which helps to keep them motivated and inspired. I've seen warehouse leaders have as many as twenty-five direct reports at one time. Trying to fit in thirty minute one-on-one meetings each month with all of these reports while balancing other meetings and demands of the job isn't easy. AIM Insights doesn't replace one-on-one meetings but it does allow leaders to conduct shorter and more effective sessions. 
AIM also enables organizations to measure the impact of training and development initiatives on employee performance by monitoring progress over time. This knowledge helps target areas for improvement or development and provides more targeted coaching for employees who may require additional assistance.
Leader and employee alignment
AIM helps leaders align their teams by providing insights and monthly gap analysis. AIM's insights help leaders identify discrepancies between how they perceive the employee's performance and how they perceive it. This allows for a more accurate understanding of employee performance, paving the way for better communication between employees and employers. Furthermore, AIM offers visibility into performance gaps, enabling leaders to address any issues before they become problematic proactively.
One of the essential aspects of AIM is its ability to provide an objective view of performance. It does this by comparing data from past months, allowing leaders to gain an accurate insight into their team's performance. Leaders can use this data to assess current skill-set gaps or compare against industry benchmarks within the organization's specific sector. In addition, AIM offers a standard set of metrics that enable employers to track progress at all levels to ensure everyone is aligned with organizational goals. 
AIM for the win!
With AIM Insights, leaders can foster healthy relationships between employees and employers by acknowledging them when expectations have been met or exceeded. This instills trust and encourages further motivation amongst employees as they understand their contributions are valued and appreciated.
AIM helps companies foster a culture of accountability by providing transparent data points and feedback loops geared towards achieving desired outcomes among their employees. Ultimately, AIM makes it easier for businesses to monitor employee performance consistently – which is essential for ensuring long-term success within any organization.
Click here to learn more about Ambition In Motion or schedule time with Garrett.