EP98: Drader at MODEX
Episode 98 – Drader at MODEX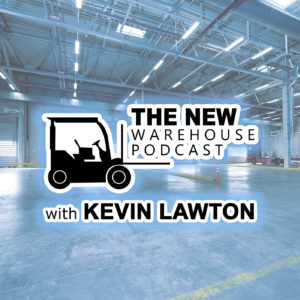 On this episode I was joined by John Pritchard of Drader Manufacturing at MODEX 2020. John handles Business Development for Drader and we discuss their business, the warehouse bins they have and also customer success stories.
Key Takeaways
Drader Manufacturing is a plastic manufacturer based in Canada that does all kinds of manufacturing but they also focus on the warehousing sector. They have created the Shopping Pick Bin specifically for the warehouse which has many added benefits to allow your operation to run more efficiently and look a lot neater.
Your pick bin can be an incredibly important factor in your operation because of how you are able to store your skus. Not only is it important to store them in an efficient matter but it is also important to have flexibility within those bins for different skus or different layouts. The Drader Shopping Pick Bin allows you to put in multiple dividers giving you the flexibility to put multiple skus in one bin and adjust the size of each compartment depending on the quantities needed.
One of the most interesting things about the Shopping Pick Bin, to me, is that Drader has had the idea to have a perforated bottom which allows for water flow. As you will hear us discuss in the podcast, this is a big deal as it means that you do not have to have sprinkler systems going as deep into the racks because water will flow through the bins in the event of a fire. This can be a huge cost savings operationally and also an easier way to deal with local codes or ordinances.
The bin is also designed to help your employee work better by giving visibility to the item and also having built in handles for easy handling. This is very important for efficiency gains and employee comfort level. I have worked with pick bins in the past that have not hand handles and it was very difficult to slide them in and out of locations when cycle counting or replenishing. These little features will help you improve significantly.
Listen to the episode below and let us know if you plan on upgrading your pick bins in the comments.