EP 285: Big Joe Lift Trucks at MODEX 2022
Episode 285 – Big Joe Lift Trucks at MODEX 2022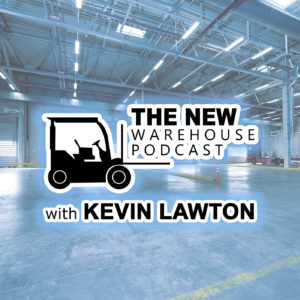 On this episode I was joined by the Chief Marketing Officer at Big Joe Lift Trucks, Bill Pedriana, at MODEX 2022. Big Joe is providing electric walk behind forklift options that can be utilized in many different warehousing applications. We discuss the origins of Big Joe, who Big Joe really is and their new automated solution Bud.
Key Takeaways
Big Joe Lift Trucks have been around since the fifties and Bill explains how the idea came about when the family owners were looking around Chicago for problems to solve. They noticed that people were having to take heavy cast iron cash boxes out of stores and they were just utilizing simple dollies and struggling. That is when they had the idea of making it better by adding a hydraulic cylinder to get the dolly up to counter height which would make it easy to get the cash box on to the dolly. From there the ideas started to grow and they have focused on making simpler solutions when it comes to forklifts and thinking about the standard forklift in a different way.
When we think of things in a different way Big Joe takes a look at a standard type of forklift and thinks about how they can improve it. For example, Bill discusses how they have taken a standard pallet jack and made tweaks to it like the sizing of the forks that allows for better maneuverability in smaller spaces and creating other solutions that allow users to better handle loads in unique spaces. They have built a strictly lithium rider jack that allows for less footprint and gives the ability to utilize the power better through lithium.
They have also recently entered the automation world by announcing Bud at MODEX which is their simplified approach to automation. Bud stands for Big Joe User Directed which means that the user is controlling when it moves but does not need to stay with it. It is essentially an automated pallet jack that the user will load with a pallet and then press the button to send it on its way to the destination. Bill discusses how quickly ROI can be achieved with Bud as it is only priced at around $50 a day through a RaaS model.
Listen or watch below and leave your thoughts in the comments.