Episode 08 – ProMat Part 2
Episode 08 – ProMat Part 2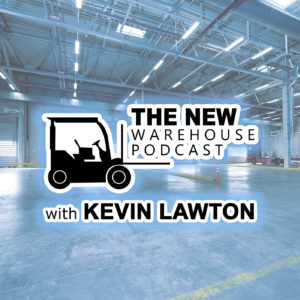 Part Two of my interviews from the ProMat floor are here. If you missed part one you can check it out here. In this episode we have interviews discussing topics around forklifts, racking solutions, barcodes, RFID, carousels, rugged computers, robotics and conveyance. One of the highlights of this episode is my discussion with Productive Robotics and the demonstration of teaching a task to their robot.
There is more information on each company below and I can guarantee you we will have some additional content coming from them in the future. I hope you enjoy these discussions as much as I did. It is incredible to see the technology developing in our industry. Part 3, 4 and 5 will be coming in the next weeks!
I had the pleasure to speak with Mick McCormick, the Vice President of Warehouse Solutions, about the automated double deep forklift that can toggle between automated and manual operation which was on display at Yale's booth. This means if you need an operator for a special project it is as easy as switching it to manual mode. It is a very versatile machine and something that can operate consistently and constantly with little implementation efforts. I observed the machine putting away pallets over and over with great efficiency. We even discuss how these automated forklifts are putting pallets away faster than human operators and how they are increasing the height these machines can reach to help you best utilize your space and help you to improve your efficiency.
At the SencorpWhite booth I got to spend time with the President of White Systems, Corey Calla, and we discussed their carousel systems and the capacity they can add to your operation. On display was one of their Silo systems which was very impressive and looked great as well. We also got to discuss the implementation process for their system and the amazing continued quality White delivers with their products. Corey also mentioned that they are always hiring so if you are looking for a job in the industry definitely check them out.
Impinj is focused solely on RAIN RFID and is focused on improving the physical tracking of goods. I spoke with Jason Ivy, the Senior Manager of Supply Chain & Logistics Industry, of Impinj about their offering of a full suite of RFID products including tags, readers and software needed to implement the RFID platform. We discuss the benefits of using RFID and how it can help you identify, locate and authenticate your products. They also had the only color laser printer in the booth that can encode RFID right into the printing. This is really great technology to help improve efficiency in the warehouse from all operation perspectives. With the technology becoming more prevalent hopefully many more operations will be able to adopt this technology to help improve service levels all around.
Productive Robotics started from a photo printing business and has moved into the robotic arm business developing very smart collaborative robots. What they are doing with these robotic arms is amazing to see. Their robots learn the tasks which can be taught by you, yes you, not a programmer. I witnessed and got involved in teaching a robot a new task. I was blown away at how simple and quick it was to teach the robot the task. Really incredible technology. I spoke with Zac Bogart the president of Productive and got some great information on their products and also insights on his views on the future of the industry.
I spoke with Matt Meersman, Vice President of Sales, who talked about the importance of having your computers and handhelds built to last through the harshness that our industry can put them through. Not only are they built to withstand hard wear but also built to stand up to harsh temperatures as well. Their computers are definitely rugged and definitely a good idea to put into your operation to withstand whatever you throw its way.
Ryan McKinney, Regional Sales Manager, showed me the different types of storage solutions Unex provides including their Speedcell product which really helps utilize your space efficiently. Unex provides many different solutions and their product was definitely high quality (the flow rack was looking quite pretty in blue). One of the most interesting things about the Speedcell product they were featuring at the booth was the ease of implementing just a small section to test in your operation due to it being so flexible.
Scandit provides a flexible and potentially more cost-effective solution for the devices you are using to scan your barcodes. I spoke with Christian Floerkemeier, the VP Product and CTO for Scandit, about their software product and how can increase the power of your smart phone or table and utilize it in operations for barcode scanning. They are also providing augmented reality solutions to help to scan multiple barcodes at a time to capture more data at once. Their software also can be utilized on drones to capture barcodes as it flies through your facility to help with doing inventory counts or capturing other data. You can check out some of their demo apps here.
Regal handles all of the things that make your converyors go from belts, drives, motors and gears. Very important items to keep you up and running! I had the chance to speak with Bruce Wagner, National Accounts and Special Projects, about Regal and what products they offer. The featured product at their booth was their ModSort product that is a flexible conveyor that diverts your packages without utilizing pop up conveyors, arms or other applications that can more dangerous. Very interesting to see it in action and definitely a much safer alternative to regular conveyor.
I hope you enjoy this episode and learn something new. Please leave a comment below and let us know what you are most excited about from these companies