EP 07 – ProMat Part 1
Episode 07 – ProMat Part 1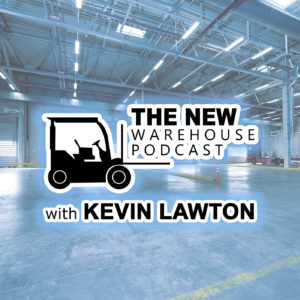 Very excited to bring you the first episode of my ProMat interviews. Last week we had my recap and my impressions from the show. The following series of shows will have the interviews from industry experts that helped me to formulate those thoughts. Each episode will have a variety of interviews with different solution providers within the logistics and distribution industries. The first episode will feature robotics, mezzanines, controls, automation, batteries and work station solutions. Definitely a wide variety of topics and all information and insights from industry experts.
All interviews were done from the show floor with the hope that you will feel like you are there in each company's booth. The show was a great experience and I highly recommend attending the next one if you have never been. ProMat is every other year but in between MHI has Modex which I can guarantee we will be there for.
Below is some additional information about each company featured on this episode. We made a lot of great connections through these interviews and I can guarantee you will be seeing more content from them on The New Warehouse in the future. Thank you to all of those companies that took the time to talk with me and help to give more information for those that could not attend!
Enersys is one of the industry leaders in batteries when it comes to material handling. I had the pleasure of talking to Harold Vanasse who is the Sr. Director of Motive Power Marketing, Americas. We spoke about how Enersys is moving towards lower and no maintenance products that increase operations up time. He also talked to us about Nexsys which is the next generation of Enersys and their products which includes one of the most exciting things I heard at the show which was wireless forklift charging.
Signode is a provider of protective packaging for all of your material movements needs. They also manufacture the solutions for applying protective packaging. I spoke to Mike Stein who is the Director of Global Marketing and Innovation. He spoke to me about some of the products featured at ProMat including the Octopus which is an automated pallet wrapping solution that gets implemented in to your conveyor line.
WilDeck helps utilize your space with more efficiency. They provide mezzanines, lifts to get to those mezzanines and protective equipment. Kelly Kamlager, Director of Marketing, spoke with me about all of the products that WilDeck offers and how they can help you to utilize your space more efficiently.
At the Siemens booth I got the chance to speak with Bhaskar Chopra who is the National Business Development Manger of Intralogistics. He told us about the segment of Siemens that provides solutions for our industry. He explained how their industrial controls work and also how they are able to better model automation solutions to help operations teams make a more informed decision on what solution will work best for them prior to implementation. What they are working on also helps to make implementation of automation solutions go smoother and faster by doing which is a big win for operations teams.
Fetch provides automated mobile robots (AMRs) that help improve efficiency and overall throughput for your operation. I spoke with Melonee Wise who is the CEO of Fetch about what Fetch has to offer and how safe their robots are. Within the booth robots were coexisting with human visitors with no concerns that there would be any issue of bumping into each other. In fact, as we were interviewing a robot was actually just a few feet behind me cruising around.
Toshiba provides many products but at ProMat we focused on their barcode printing solutions. With barcodes being so prevalent in our industry it is important to have reliable barcode printers that can handle a lot of volume. I spoke with Dan Trainor who is the Business Development Manager of Toshiba who told me about the different products they have to offer from portable to desktop. Toshiba also contributed a guest blog to The New Warehouse on barcodes which can be found here.
Honeywell offers many different automated solutions for logistics and distribution including a new robotic unloader which I was able to showcase on The New Warehouse Instagram. For the podcast, I spoke with James Hendrickson who is the Director of Marketing and Product Management for Honeywell's Safety and Productivity arm. James spoke about Honeywell's voice solutions which help to increase pick efficiency and overall employee satisfaction with their work.
I love the products that Newcastle offers which are mobile work stations. From a lean and operational efficiency perspective they provide the mobility and flexibility that we often need in our industry. I got the chance to speak with Christine Wheeler, Marketing Director, who talked to us about the different product offerings they have as well as the flexibility the stations have. I also got the chance to learn about their new power system which easily switches and allows you to keep working with no down time. The battery system is similar to switching batteries on a power tool. Really great stuff and they had pretty good chocolate chip cookies at the booth too. We also discussed their free app which helps you do accurate time studies. You can find the app here.
I hope you enjoy this episode and learn something new. Please leave a comment below and let us know what you are most excited about from these companies.