Barcode Labels Keep Track of E-Commerce
Barcode Labels Keep Track of E-Commerce
This post was submitted by Theresa Lee a product manager from Toshiba America Business Solutions. She brings 35 years of experience in the printer industry to The New Warehouse to discuss how prevalent barcodes are in our world, how they are utilized and how they will continue to grow in the coming years. How do you utilize barcodes in your operation? Tell us in the comments below.

As you may probably surmise, the average warehouse and distribution centers (DCs) use a massive number of labels in a year's time.  Eighteen billion printed labels were required to support the more than 1.2 billion smartphones sold annually, according to global market research firm, Technavio.
This impressive number only encompasses the smartphone market.  Multiply that by the number of consumer items we use daily and you can imagine the number of labels needed in warehouses to support each product from the manufacturer to the consumer.
In each of the typical warehouse workflow steps, labels facilitate the movement of the items.  Many labels implemented in this process are temporary or transactional.
For example, when a pallet is first received, a license plate label is typically created to track its location as it matriculates through the shipping process.  Racks, bins and shelf labels with barcodes are required to notify warehouse personnel where to store the items. These labels must be permanent and scannable by handhelds or mobile computers for storing.  Items on pallets usually require re-labeling before storage.  This is especially true in e-commerce fulfillment environments.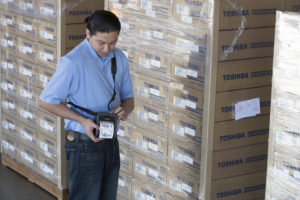 Labeling is required for picking, packing and shipment.  In the automated picking process, warehouse personnel link parcels to orders via barcode labels as the totes travel through the building prior to shipping.  While packaging and shipping, labels and packing slips are generated to prepare cartons for couriers.  If the warehouse or DC is shipping to retail stores, each carton and pallet must be labeled for tracking and tracing.
As e-commerce continues its upward trajectory (12 percent annually), it's estimated labeling volume will similarly increase.  E-commerce order fulfillment requires three times the space of traditional warehouses, necessitating warehouses to optimize room by relabeling pallets more frequently.  The e-commerce warehouse and DC must break down pallets and ship individual items, meaning the numbers of inventory items are multiplied.
To support rising customer expectations – thereby faster shipments – warehouses must increase efficiency in the ordering, picking, packing and shipping process via enhanced efficiency and lower costs.  Labeling along with automation is one of the key components to accomplishing this objective.
Toshiba offers a full portfolio of barcode printers fulfilling most applications within warehouse and DC environments.  From the company's ruggedized portables to its industrial series models, Toshiba printers allow customers to relabel on demand in the warehouse aisles or via large batch printing from centralized stations. The industrial series can also be integrated with automated print and apply, or conveyor systems for high-speed automated packing and shipping.  Built to last, and designed for low cost of operation, Toshiba industrial printers, scanners, handhelds and mobile computers are the key components to automating current warehouses and those in the future.