Episode 09 – ProMat Part 3
Episode 09 – ProMat Part Three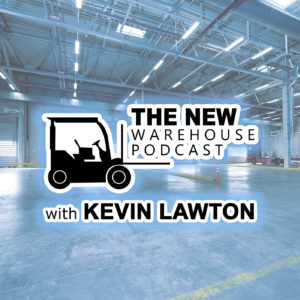 Part Three of The New Warehouse Podcast ProMat series is here! On this episode we hear from companies involved in robotics, handhelds, guarding, fans and much more. Read more about each company below. If you missed the previous parts you can find part one here and part two here.
At the Universal Robots booth, I had the chance to speak with Joe Campbell who is the Senior Manager of Strategic Marketing and Applications Development. I learned how Universal Robots was one of the first companies to introduce the concept of cobots or collaborative robots. Throughout the show many of the other robotics companies were using the Universal Robots base models to apply their own solutions. We also had a great discussion about the industry and the workforce and how things will be changing with robotics which was one of the big themes mentioned by several people I spoke to at the show.
I had the chance to check out the Zebra Technologies booth which was packed and rightfully so as they had lots of great technologies to show off. Mark Wheeler, Director of Supply Chain Solutions, spoke to me about what Zebra was showing off and their new technologies. One thing that stuck out to me was not only the technology that they are delivering but also the user experience they are thinking of. The screens on their handheld devices were incredibly clear and easy to read and one thing that I mention in the interview is how they have spaced their keyboard keys out which is a big deal in helping to prevent typos by operators. They also showed me their new product which captures trailer space utilization at your dock in real time making it easy to monitor efficiency from anywhere.
Eddie Murphy the President of SpaceGuard Products spoke to me about their protection products and the importance of putting them in place especially as warehouse and manufacturing solutions become more expensive. It is important to protect your assets as well as your people and SpaceGuard is offering multiple different solutions to help you do that. I also got to learn about woven wire versus welded wire and their different advantages.
Solution Net Systems focuses on helping you implement the best solution in automation for your operation. I spoke with David St. Leger, Strategic Account Manager, about how they assess your needs for a solution and then how they implement them. One of the highlights of their business is that they are vendor neutral so they will bring the best mix of products and solutions together for your specific need. At the booth they were actually showcasing the ModSort which we spoke to Regal about in our previous episode.
I got the chance to speak with Right Hand Robotics the winner for Best Innovation at ProMat about their robotic put wall which was their entry. Vince Martinelli, Head of Product & Marketing, discussed with me how the robotic side works on this typically human solution. As Vince says, their goal is to make robots handle items just like humans do and seeing their robots in action they are definitely grabbing and picking items with ease and quickness. The noise you can hear in the background is the robot picking items over and over with great efficiency.
Torsten Schultz, President and CEO of NORD spoke to me at their booth about their product offering of gears and drives. As distribution and logistics professionals, sometimes, we do not think of these types of items which are driving and helping some of our equipment operate. Torsten takes the time to explain the ins and outs of this world and how important it is to put thought into these items. What was most impressive was how they are creating drives that are communicating to systems that can connect through the cloud to give predictive preventative maintenance.
Speaking with Kevin Young, Business Manager of Manufacturing, at the Big Ass Fans booth was a true pleasure. Hearing how their company is centered around improving the quality of life for your employees is truly a great business model. When you first think of BAF you think of the fans, but we also get into the importance of great lighting which they now offer and Kevin discusses. I have used their fans in the past and they are truly powerful like blow all the paper off the desks powerful and they make a huge difference when you hit those hot days in the warehouse. They also have a very cool line of residential fans as well!
Panther Industries provides automated labelling solutions that print and apply labels directly to your packaging. I spoke with President Christian Dow about the products that Panther offers and about how they can improve the efficiency of your operation. We also got into his views on the future of automation in our world as technology increases and improves.
I hope you enjoy this episode and learn something new. Please leave a comment below and let us know what you are most excited about from these companies.