EP 33: Vecna Robotics
Episode 33 – Vecna Robotics Facility Tour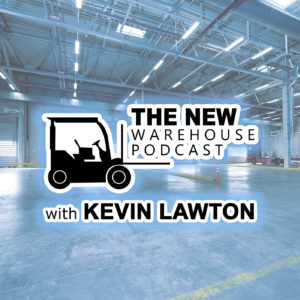 Recently I had the pleasure to be invited to go see Vecna Robotics new headquarters in Woltham, Massachusetts. There I got the chance to see what their new facility looked like and speak with David Clear, VP of Business Development and Josh Ornstein, VP of Engineering. You may remember David from our ProMat Series on episode 11. We got a chance to speak about where Vecna started, where they are now and where they are going. It is incredibly interesting to see how they came from a robotic system built for the battlefield (called B.E.A.R) to now robotics in the warehouse.
The Tour
With robotics growing so rapidly in our industry, when I got the invite to come see Vecna's new headquarters I was really excited to see how one of these robotics companies is operating and how they are utilizing their space. Vecna's offices are very open allowing for the ability to collaborate. There is also plenty of room to grow as Vecna develops and grows in size.
One of the most interesting things I learned was how collaborative the robotics industry is in the Massachusetts area. David and Josh let me know how many robotics companies are close by including 6 River who is a previous guest on the podcast. Hearing that they are friendly and work together was certainly a great thing to hear as their collaboration can only help drive the industry further ahead in the coming years. In fact, Vecna was actually hosting an ask me anything event at their facility with a panel compromised of leaders from multiple robotics companies just a few days after my visit.
Now, the most exciting part, the demo and testing areas! Obviously visiting a robotics company I was most excited to see the robots in action. Vecna has a great setup to allow you to do this. In the episode, you will hear that I mention a large warehouse mural which is the entrance to the demo area. The demo area is setup like an actual warehouse with racking and pallets in locations. It even has a shipping dock. Here they had their pallet jack model and tugger model setup. Both were operating together and navigating around the space as well as each other. It is really impressive to see them operate and sense where they are and what is around them. I even got to see  how they operate from a safety perspective as we stepped in front of the robot and it automatically stopped right away. This was a great way to see how these robots can work alongside humans in a collaborative way. You can check out videos of the demos below.
I also got a chance to see the testing area where Vecna test out different iterations of their products and also their new products. Unfortunately, I cannot say much about what was in here as it is not public knowledge but I have to say there is definitely some exciting stuff coming from Vecna. In this area I was also able to see various phases of the robots and how they are built. It was incredibly interesting to see what goes into these.
The Discussion
I was happy to reconnect with David again and continue our discussion about Vecna. He was also joined by his colleague Josh who gave a lot of great information from the technical side of Vecna. One of the things I was most impressed with was the development of Vecna over time and how it will continue to develop into the future.
It was also great to hear about the safety aspect of robotics and how it is top of mind for Vecna. I believe this is one of the biggest concerns for many as there is a question of whether robots can coexist with humans and recognize the need to stop and not cause any type of accidents in the workplace. Listening to Josh and David speak on the safety aspect of Vecna helps you to understand exactly the measures that are being taken to ensure the safety of your workforce.
We also discussed Vecna's roots and how it has evolved from the BEAR project which was a humanoid robot built to be able to lift and transport heavy objects on the battlefield. With logistics roots in the military it is really interesting to see how this initial robot evolved into working in the warehouse.
David and Josh also discussed how not only their customers but their customer's employees are reacting to robots coming into their workplace. This was a really interesting insight as many workers have most likely not seen robots of this nature operate or had the chance to work with them yet.
You can listen to our discussion below and leave any questions or comments at the bottom of the page.