EP 56: Say Ohi to Micro-Warehouses
Episode 56 – Say Ohi to Micro-Warehouses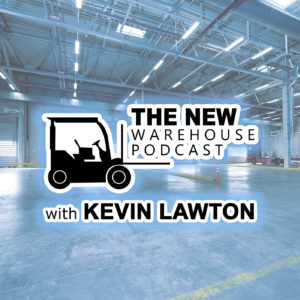 I recently had the chance to visit a one year old startup called Ohi in their New York warehouse. The warehouse, located on the 3rd floor of an office building in the middle of Manhattan, is not your typical sprawling concrete building located in a central region and as you learn about the Ohi business model you begin to understand why. In this discussion with CEO and Founder Ben Jones I learn about the Ohi business model which is bringing product closer to consumers by utilizing existing dead space in major cities essentially allowing for same day delivery on products. This micro-fulfillment concept is something that is growing and is really interesting to learn about.
The Concept
The concept of micro-warehousing or micro-fulfillment is something we have covered before in Episode 44 where we discussed WareIQ doing micro-fulfillment in India. The idea is to bring smaller warehouse spaces into urban areas in order to get product closer to the consumer for better service levels. Ohi is taking this concept all the way but only focusing on micro-fulfillment by bringing small warehouses (the one I visited in Manhattan was just about 2,000 square feet) into busy cities to help e-commerce companies provide same day, Amazon type service levels. In addition to doing this, they are also focused on making it environmentally friendly by utilizing Postmates and Door Dash to make the deliveries which are primarily done by individuals on foot or bicycle. Their setup has also allowed for the delivery of product without additional packaging needed as a lot of the product is carried by hand and delivered to the person directly.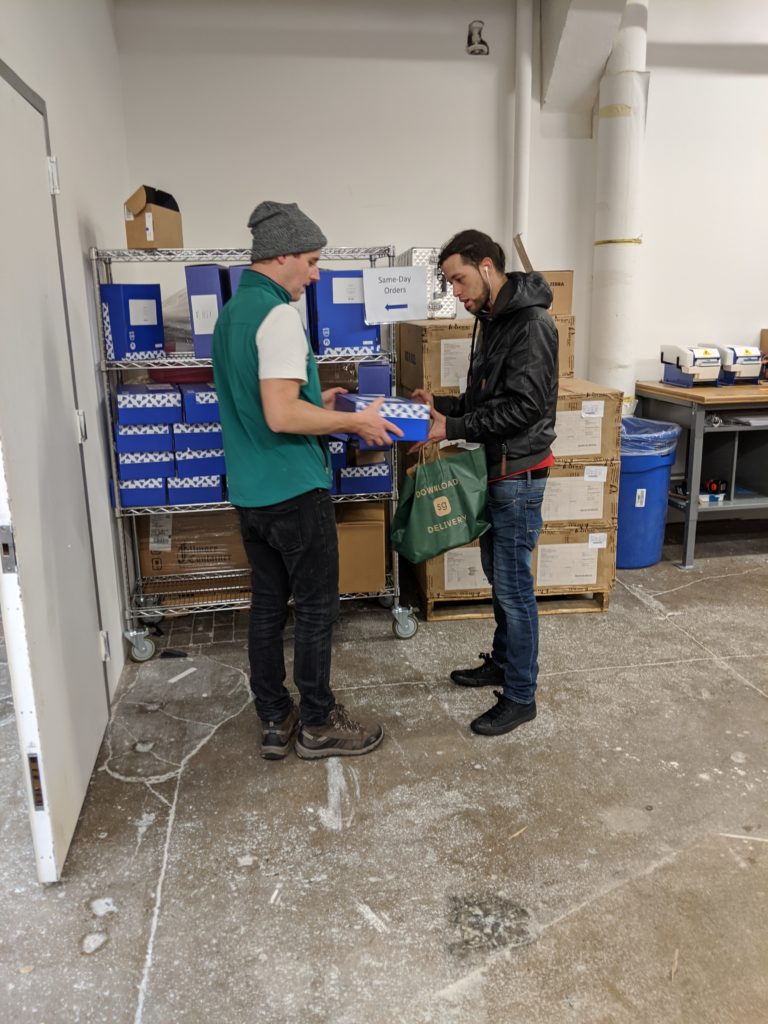 Ohi is focusing on perfecting their model with locations in Manhattan, Brooklyn, San Francisco, Los Angeles and soon Washington D.C. but their secret is the technology they have developed to make the whole concept work so well. I got to see the platform they have created and it is incredibly simple to use. This is really their secret sauce that they are planning to be their leading solution with their long term goal to be providing this software for those who have space in ideal areas to use for a micro-warehouse.
My Experience
Finding the Ohi warehouse in Manhattan was a bit strange. I located the building but it did not look like the typical warehouse that I have been familiar with throughout my career, in fact, it did not look like a warehouse at all it was a tall office building in the middle of the city. When I went inside I looked up the number and it was on the third floor. Wondering how a warehouse could be on the third floor I took the elevator and as the doors open there it was a small warehouse right there in the middle of Manhattan.
Upon entering I was impressed by the cleanliness and organization of the space. I then got a tour and walked through the whole process. The entire operation is run off of one terminal where the Ohi platform processes the orders and gives live updates on where the couriers are and approximately what time they will be arriving to pick up. It is just like watching your food come on Door Dash or Uber Eats. Based on this they know when they need to have each order ready.
Just like the platform was saying, around 5:30pm all of the couriers started showing up for their orders. A simple scan and they were on their way. It was really incredible the simplicity of it all. It is really amazing to think of all the large scale automation systems that are put into place in many large facilities to ensure same day or next day delivery but Ohi has made it so simple and achieves these same service levels.
The Takeaway
The concept of the micro-warehouse is really something that is very useful and Ohi proves that by not only providing traditional fulfillment for incredibly impressive service levels in cities but also by utilizing their setup in different ways for businesses to be able to reduce their back room. With more businesses coming on to the platform I can only see Ohi growing due to the ease of use for their software. Ohi is a really great solution for allowing eCommerce businesses to compete with large player's on service levels and deliver in a more environmentally friendly way while also putting vacant space to good use.
Listen to the episode below and let us know in the comments what you think about this concept.
Learn More
Catch Ohi's Head of Sales, Namrata "Nam" Hingorani at Shoptalk on September 16th where she will be speaking in the Emerging Technology Spotlight – Warehouses and Fulfillment track. She'll be focusing on discussing solutions that are automating or otherwise optimizing warehouses and fulfillment.
Learn more about Ohi at their website here.
Connect with Ben on LinkedIn here.