EP 55: 1 Year of The New Warehouse!
Episode 55 – 1 Year of The New Warehouse!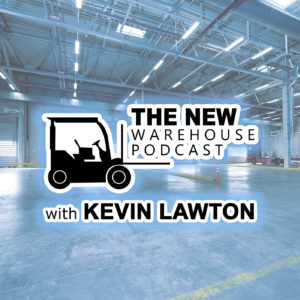 One year of The New Warehouse! It is hard to believe that today marks the one year anniversary of our very first episode with Bruce Welty. I have done so many interviews in this past year that have really helped me to learn so much more about our quickly changing industry and I hope that these interviews have helped you learn as well. I am so very thankful to all of you for reading and also for the guests for taking the time to be on the show and share their insights and ideas.
The Impact
The greatest thing about the podcast for me is the impact that it has had in the industry. I did not start this to make it into a big podcast or to gain a large following but it seems that it has gained a following and I am very grateful for that. While I have received messages through the year about people being listeners and obviously we see some stats on how many listeners and things of that nature, the biggest impact actually happened today when we had one individual stop by our MODEX booth who is a listener and was really excited to see us. That was really awesome but then at the end of the day we had Fergal Glynn from 6 River Systems, who was a previous guest on the show for episode 14, come by the booth for an interview.
Fergal and I initially joked about his first interview on Episode 14 and how it had sirens in the background because he was doing the interview as he was driving in the rain and you could also hear the windshield wipers going on in the background. He then told me something that really took me back which was that 6 River Systems has been having candidates come in to interview for them and they mention the podcast during their interview. To hear this really had a huge impact on me and made me realize that we really are reaching people with meaningful content. Definitely motivation to keep going. If you are one of the individuals that mentioned us in your interview with 6 River please do reach out to me (kevin@thenewwarehouse.com).
Giveaway Time!
In celebration of the 1 year anniversary, we are giving away a $100 Amazon Gift Card. It is very easy to enter just follow the steps below. Winner will be announced on 3/25.
Take a screenshot that shows you are subscribed to the podcast on the platform you use (Apple Podcasts, Spotify, Google Music, TuneIn, etc.)
Share it to the social media channel of your choice and tag The New Warehouse
If you do not have social media you can also email the screenshot to me at kevin@thenewwarehouse.com with subject line "Happy Anniversary"
The Episode
Listen below for my thoughts on the past year and some insights into my takeaways from MODEX 2020 so far. Also, I want to give a special thank you to Eric who has been my intern for the past few months helping with the production and really increasing the level of our audio quality. Check him out for any audio production needs.