EP 60: InVia Robotics at MODEX 2020
Episode 60 – InVia Robotics at MODEX 2020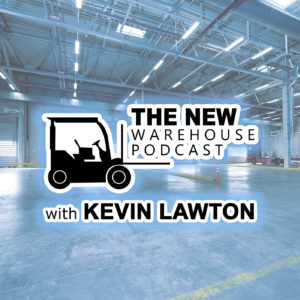 On this episode, I am joined by Lior Elazary of InVia Robotics at MODEX 2020. Lior is the CEO and Co-founder of InVia and is a serial entrepreneur developing multiple startups over his career which he mentions in the beginning of the episode. He discusses how the robotics landscape is changing, the journey to start InVia and how the InVia system works.
Key Takeaways
InVia Robotics gets it's roots from the DARPA Robotics Challenge which challenges researchers to develop a robotic solution to do a series of tasks. From doing this, Lior and his co-founders focused their ideas on creating a robotic solution for the home. The most interesting part of their journey is how they were abusing Amazon by constantly ordering parts during development including sheets of aluminum and started to wonder how Amazon was able to keep sending them these things and get it to them so quickly. Lior explains how this was the moment they decided to pivot to creating a robotic solution for distribution.
In the beginning of the episode, Lior gives some interesting insights in how the landscape of robotics has changed. We are moving from the idea of designing warehouses for robots to being able to bring robots into existing facilities with more ease. He also comments on how the accessibility has increased for robotics. I am seeing this to be very true as well as innovation increases and as more companies adopt robotics due to the issue of labor shortages.
The InVia Robotics solution is a very flexible solution being able to carry out multiple tasks. It is able to handle picking, replenishment and cycle counting. This is very interesting because it allows you to use the same solution throughout the course of the day and take advantage of opportunity time to replenish your bins and also check inventory counts. Lior also discusses how they recently developed a new workflow that allows the InVia Robot to fill a put wall for pickers to pick from. This new workflow allows for 400-500 lines to be picker per hour which is really incredible.
Coming from an inventory control background, I am most intrigued by the automation of the cycle counting process by InVia. In our discussion, Lior talks about how the robot can do cycle counting through weight. This is really a step forward for automating the cycle count process and it goes a step further by being smart enough to follow up on checking the locations that had activity that day. As you hear us discuss, inventory mistakes were one of the biggest pain points InVia was hearing from people they talked to in the industry when developing their solution. I could not agree more as an inventory issue can have a large negative ripple effect on all other tasks and ultimately your customer. I am happy that they tackled this issue with their solution.
See how the system works in the below video and listen to the episode as well as view the video from MODEX 2020 below.