EP 62: Quadient at MODEX 2020
Episode 62 – Quadient at MODEX 2020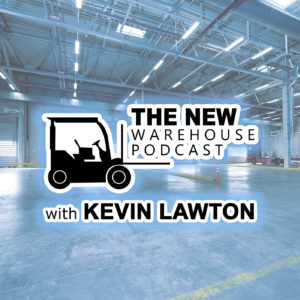 On this episode, I am joined by Bas van Steenoven of Quadient. Bas is the Global Director of Marketing for Quadient and stopped by The New Warehouse booth at MODEX 2020 to discuss their solutions, how they help to improve efficiency, reduce costs and also help to make the supply chain more sustainable.
Key Takeaways
Quadient (formerly Neopost) operates in a wide range of different solutions all with the focus on allowing their customers to create a stronger connection with their customers. They do this through a few different approaches but what my discussion with Bas was focused on was their automated packaging solutions which help to improve efficiency and reduce costs for your operation.
They have two different automated packaging solutions in the CVP Everest and CVP Impack. The CVP Everest is focused on high velocity output with capability to package 1,100 packages per hour. The CVP Impack is also focused on having high output volume but also customization of your packaging to create a better customer experience.
Automated packaging is a huge efficiency improvement and cost savings because it takes the guesswork out of what packages to use for each order. The system will make packaging to fit the order specifically so there is no void where space is waste and essentially money wasted on void fill or extra corrugate. Additionally, the big savings is on reduction in labor costs because the machine is doing the packaging and there is less labor allocated to your packaging process. As you can imagine, these are huge savings and Bas discusses just how big the impact can be in this episode.
Bas also discusses how their system can help to tackle the optimization of dim weight charges when it comes to shipping parcel through Fedex, UPS or others. It can communicate with shipping software to tell what the calculated dim weight is at the time of packaging so that further down the line the best option for lowest cost shipping will be selected.
One of the other important points that we discuss in this episode is the important environmental factor that automated packaging helps to address. With these solutions less waste is created because less material is used. Also, less void fill is used, which often times is not so environmentally friendly. I believe this is a big deal because as we look at the future of our industry technology is important but so is being environmentally and socially responsible.
Check out Quadient's automated packaging solutions in action below.
Episode and Video Interview