EP 74: National Forklift Safety Day
Episode 74 – National Forklift Safety Day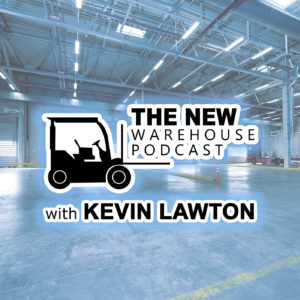 On this episode, I was joined by Brian Feehan who is the President of the Industrial Truck Association (ITA). This episode is very special as it is the first in a partnership with Material Handling Wholesaler magazine. Brian and discuss the Industrial Truck Assocation, forklift safety and the upcoming National Forklift Safety Day.
Material Handling Wholesaler Magazine Partnership
As mentioned above, this episode is the very first in the partnership between The New Warehouse and MHW Magazine. The partnership will bring new and different content to each of our audiences. For each monthly cover story that MHW publishes, The New Warehouse will be providing a corresponding podcast focusing on the same topic. This episode is a component of the June issue which is the Annual Safety Issue. It's cover story is written by Brian Feehan, this episode's guest, and talks about the upcoming National Forklift Safety Day which was founded by ITA.
About The Industrial Truck Association
The ITA has been around for more than 60 years and is the leading organization for industrial truck manufacturers and suppliers of components, parts and accessories. As you will hear in this episode, the Industrial Truck Association's membership base is compromised of all of the major forklift manufacturers that you have most likely heard of. For these members, they provide statistical reporting, industry engineering practices, market development, networking and most importantly, training.
Safety is Top of Mind
As we all know, powered industrial trucks like forklifts can be dangerous due to the nature of the work that they do. The Industrial Truck Association works closely with OSHA to be able to provide the latest safety practices and ensure that the industry is following these best practices. They also develop and distribute safety materials for the workplace. Brian and I talk to some extent about the importance of safety and as we mention in the episode safety should always be the number one priority in any workplace, especially one where powered industrial trucks are present. Due to the importance of creating awareness around this, the ITA started National Forklift Safety Day as a way to increase awareness around proper safety standards.
National Forklift Safety Day
National Forklift Safety Day has become a highlight of National Safety Month which is during the month of June. Happening on June 9th this year, it will be the 7th National Forklift Safety Day since it has begun. Typically held in person, due to the COVID-19 restrictions and for everyone's safety, this year's event will be held virtually and can be found on ITA's website here.
The focus of this event is to create awareness around forklift safety and it has had great success in doing that. Brian mentions the incredible increasing media reach that has come out of each annual event. Additionally, if you look at the number of forklift accidents each year it has come down about half of what it was 20 years ago while the number of forklifts purchased each year has steadily increased. The key to this is increased awareness and more rigorous training regulations.
Even though the event will be virtual this year, it is sure to be packed with lots of great information from industry leaders discussing the very important topic of forklift safety. Watch the video below for more information.
Episode 74
Be sure to listen to this episode featuring Brian Feehan below. Let us know in the comments what you are doing for National Forklift Safety Day at your facility.