EP 82: Getting Tough with Panasonic
Episode 82 – Getting Tough with Panasonic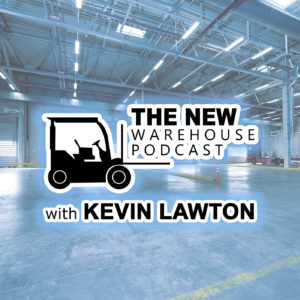 This is a combo episode and also a review with Panasonic! I was lucky to get to test out the Panasonic Toughbook 55 during MODEX this year and then I got to connect with Craig Jackowski who is the Group Manager of their Product Management team to discuss the product further. We discussed all the different features of this new Toughbook model and how it evolved from listening to the voice of the customer.
My Experience
Prior to receiving my demo unit of the Toughbook 55 I had been familiar with the product line but never had a chance to use one so I was eager to see how it worked. I obviously understood the concept that it was a rugged laptop but when I took it out of the packaging I was really surprise by how light the laptop actually is coming in at just 4.6 pounds. Due to it being a rugged laptop I was definitely expecting it to be a bit heftier in terms of weight but I was really impressed with how they are able to keep it rugged and easy to handle with just one hand. Making it even easier to handle and work throughout an operation is the incredibly well placed handle. The handle pops out so that you can carry the laptop like a brief case which is much more convenient when walking through a distribution center as opposed to holding it under your arm or in some other way that is more likely to slip out of your hands.
I also opened the box to find all these mini boxes inside which I quickly realized were all kinds of modular add-ons for the laptop itself depending on what you need to do. The different modules included RFID reader, fingerprint reader, additional battery pack, smart card reader, I/O pack, GPU pack, DVD multi-drive pack, Blu-ray disc drive pack and a SSD pack. As you can see there is a lot of versatility with this laptop and different configurations that you can use. While you may be thinking that you could add these different things to other laptops, that is true, but you probably cannot add them with the great amount of ease that the Toughbook allows you to. Changing out modules is as simple as pushing some buttons to allow the installed module to release and then sliding the new one in. No tricky connections or need to open up the device itself. Craig also discusses the modules in more detail in this podcast episode.
Overall, the laptop was very impressive and was more than powerful enough to handle the multiple documents I was juggling during MODEX as well as pulling up websites, watching videos and uploading audio files quickly. I would definitely recommend looking into the Toughbook 55 for your operation and for your rugged needs.
Key Takeaways from my Discussion with Craig
What is so great about the Toughbook line and this new Toughbook 55 is that it has evolved due to the voice of the customer. Craig discusses how by listening to the customer they were able to come up with all of these really smart features to solve the problems that customers were having. This is certainly a great example for any company looking to improve their product or service.
Craig also goes in depth into the different modules and how they can be setup. The best one of all (in my opinion of course) is the extended battery life. With the regular battery you can expect about 20 hours of life which is already incredible but add the additional battery pack and you are at 40 hours of life. This is huge and to some may seem excessive but when you think about where these are being used and how they are being used it is definitely a necessity. I know from experience there is nothing that is more of a pain than being in the middle of the warehouse with no plug nearby and having a low battery. It stalls what you are working on and wastes time going to charge.
Overall, Panasonic has put together a really well made semi-rugged laptop that is up for the task. I am excited to see how the product continues to evolve over time as customers come up with new problems for the Panasonic team to solve.
Listen to our discussion below to hear more about the the Toughbook 55.