EP 191: Manhattan Associates COVID Guidelines
Episode 191 – Manhattan Associates COVID Guidelines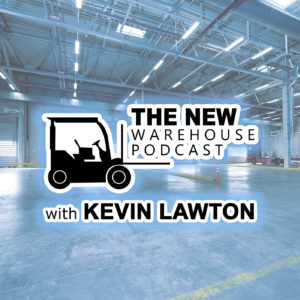 On this episode I was joined by Peter Schnorbach of Manhattan Associates. Peter is the Senior Director of Product Management at Manhattan Associates and we connected back at ProMatDX to discuss some COVID guidelines they had put out and also talk about which ones will continue on beyond the pandemic and their labor management system. While we seem to be moving on from COVID there are still some really great pieces of information on how it has an impact on the way we move forward.
Key Takeaways
Manhattan Associates brings software solutions to the marketplace to help your business operate more efficiently. They are well known for their supply chain suite which covers a wider variety of systems that operate in our space. This includes a warehouse management system (WMS), a yard management system and what we focused on in our discussion which is the labor management system. The labor management system helps to track all productivity in your operation so you can ensure that you plan your resources properly and understand your capacity utilization.
When it comes to COVID Guidelines I think we have all become pretty familiar with them. What I was interested in learning from Peter was his thoughts on what guidelines will stick with us as we head out of the pandemic. There were two very interesting guidelines that sound like they will stick and definitely caught my attention. The first was the utilization of mobile apps to communicate with your employees. I learned about two apps that I had not heard about previously which are Shyft and Work Jam. These apps allow you to send out notifications to your employees on when shifts are available or when extra coverage is needed. I love this idea because it gives you more flexibility and better planning tools because you do not need to wait until the employees come in for work next to ask if they can cover a different shift.
The second take away from our discussion around COVID guidelines was the guideline to maintain and create open and honest communication within your operation. I believe this is such a key factor to overall success in business not just during COVID but all the time. Doing this allows you to have better insights into what is happening in all aspects of your operation because your employees will tell you what is going on with out any hesitation. This is the best way to improve and ensure that you are on the proper track for growth.
Listen to the episode below and check out all the guidelines from Manhattan Associates after the episode.
Worker Safety Guidelines During COVID-19
Temperature checks

Continuedaily temperature checks when a worker arrives for their shift. If an employee has above a 100.4-degree temperature, they should receive medical consultation before returning to work. Proper training and PPE for the employee administering the temperature checks is critical to guarantee the readings are accurate.

Rotating workforces

Warehouses can break their workforces into groups and cycle through these groups on a rotating schedule. While this would require more planning, it would certainly help limit employees' exposure to a large number of colleagues,and can aid in contact tracing, should it be required.

Stagger schedules and breaks

To limit the number of people in common spaces, including break rooms, lobbies or cafeterias,stagger schedules so employees are arriving at different times, preventing large groups from forming in the same space at once for lunch or team meetings.

Provide PPE and make sure employees are always wearing it

Display signage that clearly communicates what personal protective equipment (PPE) is required while on shift.As well, provide the necessary PPE for employees including masks, face shields and gloves, that must be worn whenever inside the facility. Employers should replace these regularly and keep a back stock.

Install proximity sensors and technologies

Install proximity technologies, like wearable sensors or beacons, that alert employees when they aren't adhering to proper social distancing. For example, Zebra is using its handheld devices to buzz when employees are too close to one another. This technology is very useful as employees can get preoccupied with work and forget to maintain distancewhile also helping workers feel more secure.

Use mobile apps that can be installed on personal devices

Allow employees to install applications, such as time and attendance, on their mobile devices so they can use these rather than shared devices. This ensures that devices are not being passed among employees and limits sanitization concerns.
Shyft and Work Jam

Create one-way routes and mark out six-foot increments

Using tape or paint, create one-way routes throughout the warehouse and mark out six-foot increments on the floor to maintain social distancing. These serve as helpful reminders for how far apart workers should be.

Ensure common surfaces are being sanitized

In addition to installing hand sanitizing stations throughout the facility, ensure that any items or surfaces that multiple people touch regularly are being sanitized frequently to minimize the spread of germs. This includes touch surfaces that control automatized equipment and robotsand transitioning touch pad technology to swipe-based transactions.

Appoint safety monitors

Appoint a team of safety monitors on each shift to monitor employees and encourage safe practices such as wearing PPE, using hand sanitizer and maintaining social distancing. The safety monitors can also be a channel for employees to bring concerns to and ensure any health problem is addressed immediately.

Implement labor management systems

Balance productivity with safety. Visibility into performance and understanding what productivity looks like is more important now than ever, as warehouses continue to grapple with the boom in e-commerce. For example, many companies are suspending/not enforcing policies on productivity or attendance in some cases. Labor management systems monitor employee engagement and provide control and visibility into operations.

Create open and honest channels of communication

Establish open channels of communication to keep workers informed on how the company is prioritizing their health and safety, and to give workers a forum to ask questions or share feedback that can be used to improve conditions. It is a priority for companies to ensure employees feel valued and safe by listening to their workers and addressing their concerns.This can be in the form of daily or weekly team meetings, communication platforms via their mobile or handheld device or regularly updated signage throughout the warehouse.