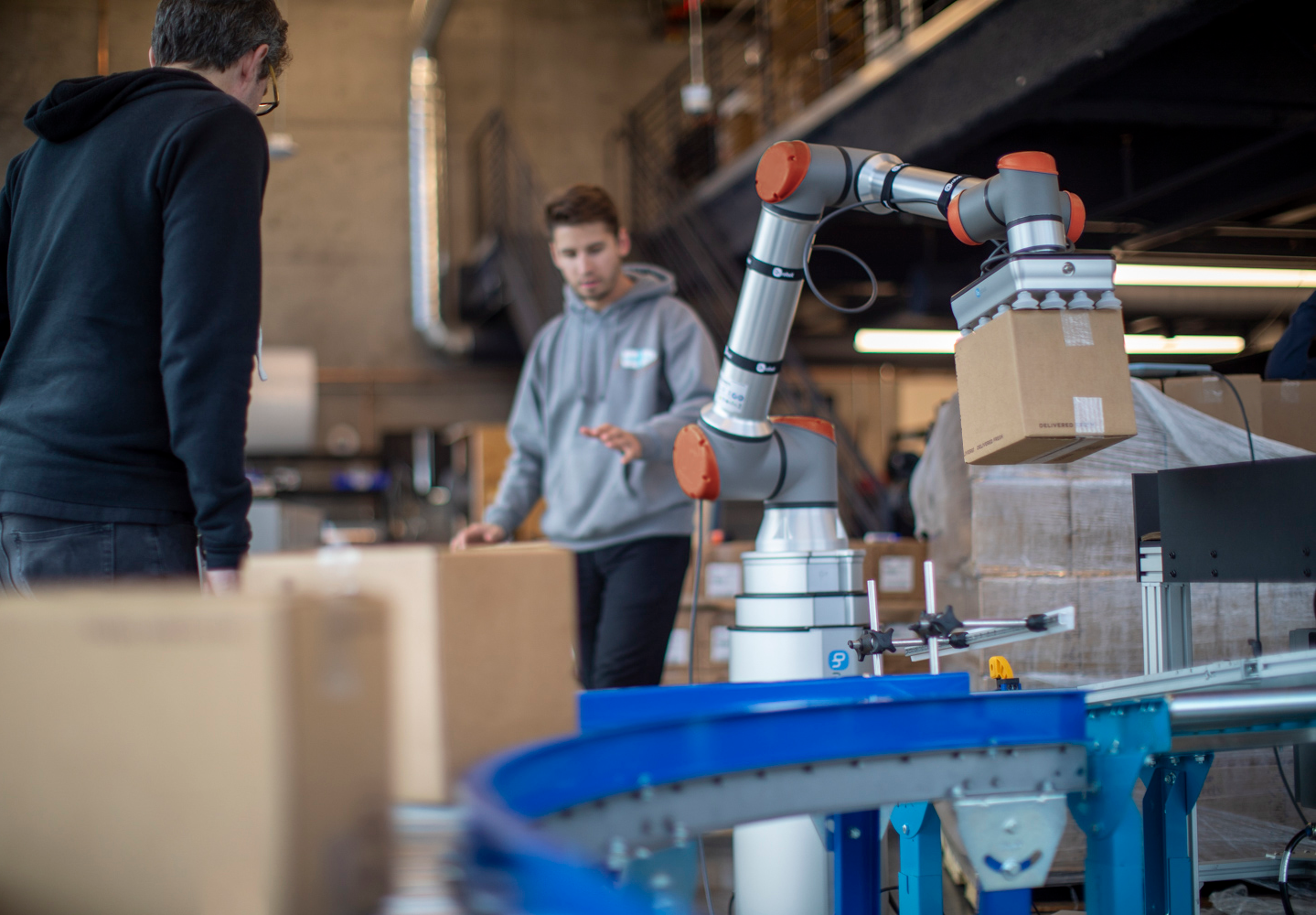 The Power of Robotics in Warehousing: An Interview with Rapid Robotics
The Power of Robotics in Warehousing: An Interview with Rapid Robotics
Even though I saw a robotic arm lift a shiny red Corvette and a guy flying around with a jet pack, Rapid Robotics left the most lasting impression on me at last year's International Manufacturing Technology Show (IMTS). After meeting the team and seeing how excited they were about their product and the problems they were solving, I just had to learn more. And the timing couldn't be better.
Although Rapid Robotics operates primarily in manufacturing, at Automate 2023, they will showcase their new end-of-line capabilities, such as palletizing, box building, and packing — a welcome solution to warehouses everywhere. I was able to catch up with Jordan Kretchmer – Co-Founder and CEO at Rapid Robotics; he shared the company's mission, its unique differentiators, and the future of robotics in warehousing and beyond.
Our previous article on trailer unloading solutions highlighted the increasing use of automated technology to address the warehousing industry's tedious, hazardous, and strenuous tasks. Automating repetitive and physically demanding end-of-the-line tasks is another way the material handling industry can address the labor shortage and improve worker safety. By harnessing robotic solutions, warehouses can elevate their capabilities, reduce errors, and enhance the well-being of their workforce.
Collaboration
Collaborating with robots may be a new concept in material handling and warehousing, but the potential benefits are significant. While concerns about human and robotic collaboration in material handling and warehousing are valid, it is essential to consider the potential benefits of such collaboration to address the labor shortage. Kretchmer shares, "At Rapid Robotics, we founded our company to address the labor crisis of the manufacturing industry. With an estimated 2.1 million manufacturing roles left unfilled by 2030, we recognized the need for innovative solutions."
With the right balance of human and robotic labor, the warehouse of the future can be a more productive, efficient, and fulfilling environment for all workers. He adds, "Traditional automation creates barriers for more than 80% of American manufacturers at every scale. Automation is the only way forward, and we strive to provide accessible solutions to a wide range of industries."
It is important to remember that the role of automation is not to make human laborers obsolete. Instead, it is to shift them away from repetitive and inhumane tasks to higher-value ones and to provide reliable support for that workforce. With robots handling end-of-line solutions, workers can focus on tasks requiring creativity, analytical skills, and decision-making abilities, increasing job satisfaction and reducing injuries. "We see ourselves as less of a robotics company and more of a holistic workforce solution to help customers manage disruptions and expand their business," says Kretchmer.
A Practical Automation Solution for Warehouses
Smaller and medium-sized businesses (SMBs) have faced difficulties adopting automation due to traditional barriers, leaving many low-margin tasks unautomated. Kretchmer states, "The majority of manufacturers in the U.S. are small-to-medium operations and do not have the capital or time to invest in a solution that ultimately may not work for their operations in perpetuity."  However, Rapid Robotics has found a unique approach to make automation more accessible through Robotics-as-a-Service (RaaS) provision.
Rapid Robotics' solution, the Rapid Machine Operator (RMO), eliminates many of the barriers to automation that warehouses traditionally face. According to Kretchmer, "At an equivalent labor rate from $6-$18 per hour, depending on task complexity and usage, Rapid Robotics' customers receive a fully integrated, pre-trained RMO that is paid for on a monthly basis, changing automation from a capital to a more manageable operational expense. Rapid Robotics handles all programming, systems integration, monitoring, repairs, and software upgrades at no additional cost." The company also offers a full-scale facility audit to determine the right tasks to automate, manages the deployment process, and provides ongoing customer support. This solution makes it easy for manufacturers to implement robotic automation and achieve rapid results by automating repetitive and physically challenging tasks.
With Rapid Robotics' solution, manufacturers of all sizes can redeploy valuable human workers to more complex or higher-value tasks while lowering the cost of automation. The approach shifts automation from capital to an operational expense, simplifying the investment process.
Overall, Rapid Robotics provides an innovative solution for manufacturers to automate low-margin secondary tasks by making automation accessible and affordable. By minimizing traditional barriers, their solution optimizes warehouse efficiency, reduces operational costs, increases productivity, and eliminates the dangers of physically taxing workers.
The Flexibility of Rapid Robotics Solutions
One of the unique differentiators of the RMO is its flexibility in meeting the ever-changing needs of warehouses and material handling operations. They achieve flexibility through the Smart Setup tool, enabled by powerful machine vision, which utilizes fiduciary markers to orient the RMO on its new position in the line. The reprogramming process is made simple by allowing robots to move seamlessly between tasks with just a tablet-based interface, taking as little as 60 seconds.
This flexibility is essential for facilities with high mix and low volume, as the RMO can quickly adapt to changing needs. By providing such flexibility, Rapid Robotics helps its customers achieve faster ROI than possible, ultimately increasing their operational efficiency.
End-to-End Management Partnership
Rapid Robotics offers its customers more than just robots. Kretchmer adds, "We offer our customers a partnership in which we manage the process from end to end: undertaking a full-scale audit of their facility to determine the right tasks to automate for the biggest impact, defining the right robotic arm for those tasks, customizing the necessary end-of-arm tooling, managing deployment, providing 24/7 remote monitoring for the robotic workforce and handling all required maintenance, support and repairs for the lifetime of the contract." With this partnership, Rapid Robotics takes on a massive weight of responsibility, allowing customers to focus on their core business.
Simplified Investment
Achieving a solid return on investment and time of implementation are two of the most significant barriers to automation, specifically for smaller businesses.  Kretchmer believes, "Even if companies see the initial benefit of automation and desperately need additional labor, they often abandon the effort because of how long it can take to achieve a return on investment." Rapid Robotics simplifies the investment process by allowing customers to pay for their RMOs monthly, making automation an operational expense instead of a capital one.
Improved Safety
Deploying automation to the right tasks can increase efficiency and lead to a safer environment. According to Kretchmer, automation can lead to significant safety improvements. "In addition to the human cost, injuries can cause even greater disruption to warehouse operations than to factories. In addition, a lot of those operations – especially palletizing – often have a high injury rate. Some data indicates that deploying automation to the right tasks can reduce time lost to injury by as much as 35%." 
Rapid Robotics at Automate
As the push for automation in manufacturing and warehouses continues, Rapid Robotics offers a unique and accessible solution for manufacturers of any size through its Robotics-as-a-Service (RaaS) model. The company combines hardware and support services to make robotic automation more affordable and easier to implement.
Attendees of Automate 2023 can witness Rapid Robotics' featured solutions by visiting booth #5620. They can also hear from Rapid Robotics VP of Product Juan Aparicio, who will discuss new software innovations. Attendees can explore these solutions further through Yaskawa Motoman's interactive kiosk at booth #3223. Former guest of The New Warehouse, Universal Robots provides an opportunity to see the UR5e cobot integrated with Rapid Robotics' tech stack in action at booth #3623.
For companies seeking automation solutions that are both accessible and flexible, Rapid Robotics provides an exciting option. Its end-to-end management partnership, coupled with a focus on safety and versatility, makes it a company to watch for the latest innovations in robotics and automation.
Be sure to check out additional content from The New Warehouse to learn more about robotic solutions transforming the industry.
Automation and Robotics in Warehousing