EP 50: What to Expect at MODEX 2020 Part 1
Episode 50 – What to Expect at MODEX 2020 Part 1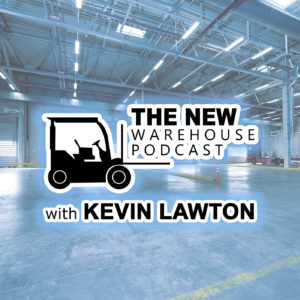 Wow episode 50! Hard to believe it has been that many episodes but I can say that The New Warehouse is just getting started. This week, I put together a few companies that will be exhibiting at MODEX 2020 to hear what they will be showing in their booth and also what they are excited for outside their booth as well. I am very excited for MODEX coming up in just a few weeks as The New Warehouse will have its own booth and you will be able to find us at booth 4194 so definitely stop by.
The Raymond Corporation
CEO Mike Field, who you might remember from Episode 32, represents the company and gives us some insight into what to expect at their booth and also their educational sessions. The booth will have a big focus on their optimize before automating philosophy which I think will be a great addition to what I am expecting to be a show filled with a ton of automation solutions. They will also be showing off their virtual reality training solution which I have been really excited about due to the innovation in training and safety that this provides the industry. Be sure to stop by their booth #7819. For more information on Raymond you can find their website here.
Impinj
Sandy Murti represents Impinj in this episode and discusses how their booth will be applying their different technologies in real world scenarios. Definitely excited to see how they do this and how their technology can make operations more efficient. One of the big things that Sandy mentions is how they have connected over 30 billion things which is a huge number so it will be really interesting to see how they are going to progress in connecting even more things. I think this technology is really something that will be driving a lot of what we will be looking for in the near and long term future so definitely a booth to check out. You can find Impinj at booth #6856. For more information on Impinj you can find their website here.
Big Ass Fans
Showcasing much more than just fans, BAF will be showing off some new technology on how they are building on the idea of improving the quality of your workplace for your employee's happiness. Kevin Young discusses what Big Ass Fans will be showing which includes their new technology that can help you to visualize what impact your fans will actually have on your operation. I am looking forward to seeing how this works because I think this visualization can really allow you to get the best environment possible for your employees. Check out BAF at booth #4828. For more information on BAF head to their website here.
MHS
MHS is going big at MODEX this year with multiple different aspects of their company being showcased. Lauren Pedley gives us a preview of what to expect with six different sections of their booth involving many different solutions. At Promat, MHS had a virtual picking game and Lauren let's us know there will be a similar game this year with an automated robot actually delivering prizes to you. I am also interested to see how they are creating their cocktails which you will hear in the episode. I have a feeling this booth is going to be a lot of fun! Find them at booth #7646. For more information on MHS head to their website here.
Listen to the episode below and let us know what you are excited for at MODEX 2020 in the comments below.
Be Our Guest?
Want to participate in an interview and be on the podcast? We will be setup at booth #4194 at MODEX 2020. Sign up for an interview time here.