EP 108: 6 River Systems Then and Now
Episode 108 – 6 River Systems Then and Now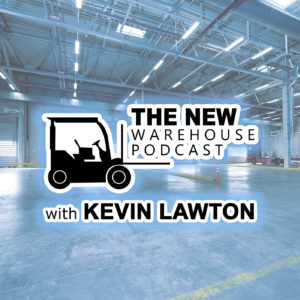 On this episode I caught up with Fergal Glynn of 6 River Systems twice! For the beginning of the episode we caught up at MODEX just before the pandemic hit and at the end of the episode you will hear our more recent discussion talking about what has happened since MODEX and what impact COVID has had for 6 River Systems and its customers.
FLOW 2020
Before we jump into some key takeaways for this episode, I wanted to let you know that FLOW 2020 is taking place this Wednesday and Thursday (9/16 and 9/17). This is 6 River's annual event bringing together over 40 speakers for FREE to help keep you up to speed on what is happening in fulfillment, logistics and automation. FLOW is sure to be an exciting virtual event with lots of information being shared to help you stay up to date during these pandemic times. One of our former guests, Rafael Granato, will also be a speaker so be sure to register and soak up some knowledge. You can register here.
Key Takeaways
6 River Systems is focused on empowering the worker by increasing throughput and improving productivity with their automated solutions. They provide a robot named Chuck to help move goods within the flow of your operation. Chuck is incredibly flexible in how it can be configured in terms of size and deployment. With the same technology as autonomous vehicles, Chuck has no need for any changes to your facility and can be put in place with ease. Onboard software is constantly thinking of the next step ensuring that all picking processes are being handled as efficiently as possible.
As I caught up with Fergal at MODEX we talked about the big news since we had first connected on Episode 14 which was that 6 River Systems was acquired by Shopify in the fall of 2019 for a nice sum of $450 million. Shopify recognized the opportunity that 6 River provides them to expand their fulfillment suite. With the acquisition Shopify begins to be able to increase their physical product offering as well as digital to help fulfillment businesses expand and expand more efficiently. Fergal discusses how the acquisition and support from Shopify is helping them to continue to expand their offerings and improve their technology.
During MODEX Fergal also discussed how 6 River System's goal has always been to solve the fulfillment problem in all aspects of the fulfillment center. They started by looking at the picking process which had the most opportunity to improve efficiency. As this has been established, 6 River has built out more robust software that can now handle other functionality in the fulfillment center. They are still utilizing the same AMR, Chuck, but he is now able to handle replenishment, sortation and pack out in addition to picking. Their ultimate goal is to provide a wall to wall solution to help automate the entire fulfillment process.
At the end of the episode you can hear us discuss how things have changed over the pandemic since MODEX and how 6 River Systems has adopted to the new work environment. What is interesting to hear is how the pandemic has actually helped them to accelerate certain things they already had planned. One of those being deployment. Fergal discusses how they are able to do completely remote deployments now without sending any "Rivs" or 6 River employees on site. This is an incredible step forward for deployments and also a big step in increasing the ease of the 6 River Systems solution.
Listen to the full episode below and watch the video of Fergal and I at MODEX below when we were still having in person meetings.