Episode 320: Improving Safety with Lopos
Episode 320: Improving Safety with Lopos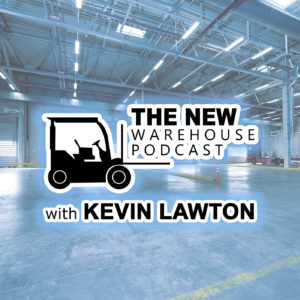 Warehouse safety is always a top priority, and today Kevin is joined by Peter Van Roosbroeck, Chief Commercial Officer at Lopos, to talk about their innovative collision warning system. Their product, LoposAlert, is a 360-degree collision warning system designed to reduce forklift incidents. Kevin and Peter discuss the company's history, its products, and the future of collision warning systems.
Key Takeaways
Peter explains how their proximity technology was initially developed as a solution to fight the pandemic during COVID-19. Lopos produced wearables that measure the proximity between people and then provide some contract tracing for large organizations to keep their operations going. The opportunity to improve warehouse safety was one that they identified early on and designed to reduce forklift incidents.

LoposAlert can be installed in under thirty minutes and used by all types of forklifts, making it a plug-and-play experience. Customers can configure the system based on environments and needs with customizable sound and light alerts. The

LoposAlert Beacon

and the

LoposAlert wearable

work in tandem, so both the forklift operator and the worker are aware of proximity alerts. Shared awareness ensures the safest possible work environment by making both parties aware of the situation.

Lopos uses ultra-wideband radio technology, which is extremely precise and accurate but doesn't require a line of sight. Most other technologies that do proximity warnings require a line of sight to look or see an individual in proximity to an asset or a vehicle. So, the Lopos solution can see people coming through aisles and corners where a line of sight restricts other technologies. This enhanced visibility is ideal for warehouse environments with blind corners and heavy traffic. Lopos can also gather data points and provide digital twins of every incident or near incident. Those insights offer advanced learning opportunities from a training aspect allowing leadership to look for ways to improve and avoid future incidents. 

Protecting assets is another unique value of the Lopos proximity warning technology. For some reason, warehouse and yard gates are always getting in the way of forklifts. Gates are expensive and can take a long time to repair, potentially leaving your location unsecured. The LoposAlert can provide proximity warnings for the most common collision points in a warehouse to prevent damage and injuries.
Listen to the episode below and leave your thoughts in the comments.