Episode 314: The New Peak with 6 River Systems
Episode 314: The New Peak with 6 River Systems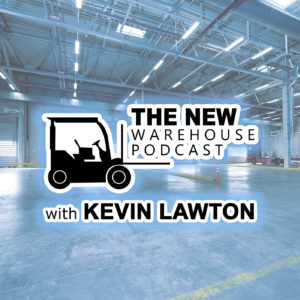 Welcome to the New Warehouse podcast. In this episode, Kevin is joined by John Evans, Sr. Customer Success Manager / 3PL Team Lead at 6 River Systems. 6 River Systems is a solutions provider offering wall-to-wall solutions for warehouse operations of all shapes and sizes. They're a company that is constantly striving to make warehouses more efficient with flexible, user-friendly, and innovative products. John and Kevin discuss all things peak and how 6 River Systems helps customers address labor challenges and conquer the peak season.
Key Takeaways
Kevin and John discuss how peak season has changed since the pandemic. They emphasize the importance of data in forecasting peak season and preparing for it. John notes that organizations are becoming better prepared for peak season, partly due to lessons learned from the pandemic. He cites partnering upstream as an example of how businesses try to learn from the past to better cope with future challenges.

John discusses the mission to empower associates by making them bigger, faster, stronger, and happier with the help of collaborative robots like

Chuck

. Collaborative robots are not displacing jobs but empowering the workforce to achieve productivity faster. With a system-directed user experience, the Chuck robot will direct the associate through their workflows with instructions on the screen. The Chuck collaboration speeds up the on-boarding process for new associates and helps operations managers to achieve productivity faster and easier. John shares they are seeing new hires achieve a 90% productivity rate within seven days of hire.

John shares how important it is for employees to understand their roles within the company and where they fit in the team. Not only a deep understanding of their day-to-day tasks but what are their larger goals like what their manager expects of them each day. They want to see they have a career path of some sort. John shares a story of one such company that displays all of its workflows and a clearly defined training plan for all employees to see. They don't see a ton of turnover because there's that career opportunity that they've fostered within their building with the transparency that each associate gets.

6 River is working towards empowerment through gamification and making the system fun. John sees the secret to creating a happy and engaged workforce is providing a clear career path, having cool systems in place such as collaborative robots, and making the work simple. Collaborative picking provides a unique employee experience that allows small and medium companies an edge in retaining and attracting talent beyond increasing wages.
Listen to the episode below and leave your thoughts in the comments.